Pros
Impressive Design and Build
The specification is insane in terms of storage and can be upgraded
Quad Core 10th Gen Intel Processor is good in temperature and power efficiency
All the ports are available on the laptop and only RJ45 requires a dongle
The Thunderbolt 3 Support is a welcoming addition
Battery Life is too darn good
Cons
Not a product for everyone
Expensive for sure
Final Verdict
This ExpertBook B9 sets the benchmark on how an Ultrabook should be and it's going to put a lot of contenders in this segment, a tough time to compete. Plus, this just might be the closest thing to the Zenbook 3 Deluxe alternative in a long time. 
We have definitely seen quite the number of Ultrabooks from ASUS and one of the most prominent series would be the Zenbook which we have reviewed here without missing a single generation. They do have another lineup which isn't a replacement but more of a niche and is a right fit for the term "Ultrabook". The folks over at ASUS Malaysia sent us the laptop over for us to review and here's what we feel about it – and this is the ExpertBook B9 Review.
Look and Feel
In terms of look, the Expertbook shares a similar design as the Zenbook counterpart – to be specific, UX533. But that's the only part. The rest of it with the Expertbook B9 is a little different, in fact a lot more impressive. The laptop looks extremely sleek and slender and it boasts no extra design cue such as the ZenSpiral on the back nor a chamfered edge. But what the laptop does come with is this all greyish-black finish that just looks so good to the eye and it does have this glittery side to the laptop where if you were to place it under a light, it does have a starry like shine to it – ASUS calls it the Starry Black finish. That explains a lot.
The ErgoLift hinge is present in the ExpertBook B9. Alongside with a much angular design, the ErgoLift gives the incline you need and the edgy look as well. When you touch the laptop, the feel of it is an acquired taste. It has a sandstone finish which I love so much and the feel of it can leave a goosebump – just don't try to scratch your nails on the body. That aside, the laptop is so light that carrying this is far better than the pile of books I carry to my university. I am not even kidding – coming in at 890 grams – this just might be the lightest laptop we have reviewed as of now.  Its all possible because of ASUS opting in for a different material for its build – Magnesium Alloy. The lightness does come with some impressive added advantage like – spillproof keyboard, a MIL-STD-810G Grade Certification where the laptop can handle quite the rough hit – not that I'd recommend doing it but it's a great feature to have to avoid your laptop from getting wrecked.
Display
ASUS packed a 14" LED Backlit IPS Full HD display into their laptop. On top of that, it comes in a 16:9 aspect ratio with an anti-glare screen and a peak brightness of 300 nits respectively. Here's the best part – the Zenbook already had a thin bezel but the Expertbook's bezel is, heck, even thinner coming it at a whopping 4mm thin – therefore offering a 94% screen-to-body ratio. The display is great thanks to the 100% sRGB color coverage – the tone does fall a little on the warmer tone but you can calibrate the colors with the help of the MYASUS Command center – which allows you to enable Tru2Life colors, change the tone and switch between modes like Vivid and so much more.
Since it a very productivity centric display – and doesn't have a discrete GPU like an MX250 from NVIDIA but uses the integrated Intel UHD Graphics 620, you wont be using a laptop like this editing but more time on dealing with the post edited files for presenting and in such case, I can see the display leave a good impression on the viewers heart with the colors that's accurate. Now another place you can test the colors is obviously watching shows on Netflix, and its no doubt the display certainly does justice. With the help of the Tru2Life tone, you can get a Creator-mode-like experience while you watch shows that's aesthetically pleasing and calming at the same time. Just that the display being more on the warmer tone right outside the box kind of trips me but its alright.
There is one department the laptop offers something even their Zenbook doesn't. The two USB-C port isn't just for charging – which I will talk about it later but they are Thunderbolt 3 ports. So, the opportunity to run an eGPU to be able to use this ultrabook as an editing machine – the possibility is there but that's something I'd love to explore down the line if I can get a hold on to this laptop for a longer duration. So, ASUS if you are reading this – ehem ehem – notice us senpai. Another thing I commend ASUS for doing here is keeping the camera at the traditional spot and with a shutter, you can shut it for privacy but you will have to open it to login – if you enable Windows Hello, that is.
Specification | Performance | I/O
Okay this specification that we received from ASUS HQ was something we were lowkey shocked about and thing is – it still blows our mind, just like how my all-time favorite ASUS Zenbook 3 Deluxe did.
Intel Core i7 10th Generation Processor – 10510U (1.86GHz with turbo boost up to 4.9GHz)
Integrated Intel UHD Graphics 620
16GB LPDDR3 2133MHz RAM (non-upgradable Dual Channel Support)
2TB Dual M.2 PCIe NVMe Gen 3X4 Storage
ASUS opting in for a power efficient U Series processor is a right call because even if they were to go for a H series, not only its going to affect the battery performance but also affect the thermals. So, that out of the way – we ran the following benchmarks: Cinebench R20, PCMARK10, Blender and Geekbench 5. To keep it simple, the score is as what you'd expect from a machine like this – the quad-core isn't going to blow everyone out of the water but its decent enough for the task it was meant to do. Even in our Cinebench R20 is good enough to explain with the scores it attained in the test and in Blender it took a mere 18 minutes to process. But good thing is that the thermal is impressive with it being able to maintain a maximum 67 degrees.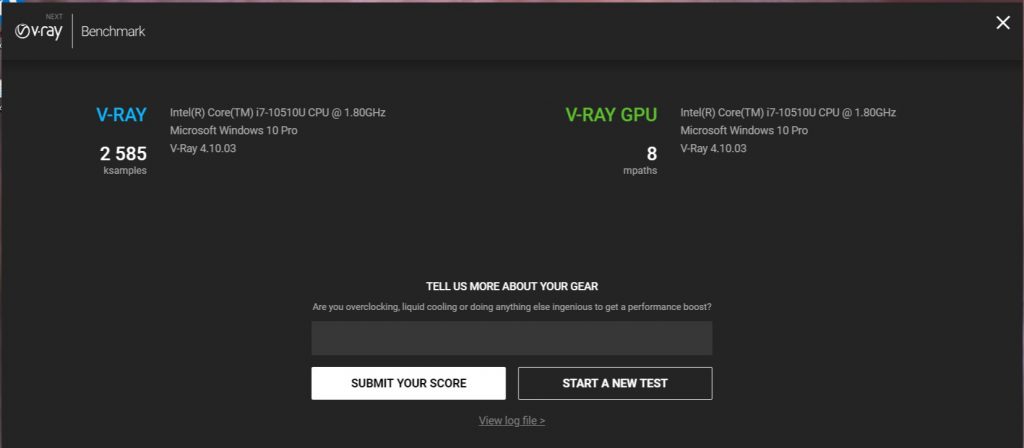 What is really fast is the storage and with the help of CrystalDiskMark – the speeds on the M.2 SSD is insanely good – with a Sequential Read of 3400++MB/s and Write of 2300++MB/s on both drives. I didn't think we would come to a day where you can bring 2TB in a laptop this light anywhere – the closest would be the Zenbook 3 Deluxe which was way ahead for its time.
Honestly, this is an insane specification for an Ultrabook and man convenience and luxury definitely comes at a hefty price tag. Truth be told, the specification you see above is a good one for a totally productivity centric task and we are talking about Video calls, presenting, browsing, Office work – the usual modern office work and the specification you see above is more than fit to handle. While the Intel UHD Graphics may seem like a shortcoming, I don't see the consumer who will be purchasing the Expertbook to use it for editing and play games. That said, it is capable of handling very light games but personally, I wouldn't recommend it.
As we mentioned earlier, we have some interesting test we want to do with the laptop in the long run but we will keep you posted for that to happen.
For an Ultrabook of this caliber, it sure does have quite the number of ports to get you through pretty much anything – 2x Thunderbolt 3 USB-C Port, 1x USB A 3.1 Gen 2, 1x HDMI, 1x RJ45 LAN via micro HDMI Port, 1x Audio Combo Jack and finally a Kensington Lock.
Charging and Battery Life
The Expertbook B9 we received comes with a 4-cell battery, 55Wh Lithium Polymer Battery and to charge it, the laptop comes with a 65W AC Adapter with fast charging capabilities – its about time ASUS takes the USB-C port based charger seriously because its a god send in this case – and being able to rely on one charger for the most part is a relief. In our battery test, which involves more towards productivity centric task the laptop was able to cope up quite well. ASUS claims that the laptop can last up to 24 Hours and in our test – I am surprised but the laptop managed to last about 14 hours straight. For the most part, you don't have to worry about your laptop running out of juice and you don't have to carry your charger all the time – and it fits. With enabling standby sleep, you can most definitely prolong the battery for a bit longer. But that battery life is epic.
Input and Speaker
The Keyboard and Trackpad is not anything like my personal Zenbook 13 which is why I love the Expertbook so much. Let's start of with the keyboard. It has a proper centralized keyboard layout with even gaps on the sides. The function rows double as a shortcut for tasks and as for the rest of the keyboard layout, is just like you'd see on a proper keyboard. The spill-resistant is an added feature which is something you cant take it for granted. The key travel on the ExpertBook is a good 1.5mm and typing on the keyboard feels nice and just right with no compromises. I enjoy a good keyboard with proper sized keys and the function keys are sized right, the shift key on the right is of the normal size. The arrow keys are a little smaller but its okay to work with.
The touch pad on the ExpertBook B9 is covered in glass and in terms of dimension, its really wide. The trackpad comes with Windows Precision drivers and you will be able to perform any kind of gestures for multitasking. The trackpad also gets the NumberPad treatment and as I have mentioned previously that it does give a little like Tron vibe, it feels the same on the Expertbook, which I personally love.
As for security, the Expertbook does not fall short. Not only it has a fingerprint sensor on the right. It also has a Windows Hello IR Sensor to detect your face and in the current world, privacy is important and they have also included a shutter to close the camera while its not in use.
The speaker on the laptop is powered by Harman Kardon – it houses two stereo speakers. We tried some songs in our local library, My Dear Melancholy by The Weeknd and for a business centric laptop, ASUS has never let down the customer in the audio department because the laptop has really good sound quality and be able to handle little treble and bass altogether. It does have a studio like staging which you can change it in the settings to tweak it the way you like. And honestly, Bosses too deserve to throw a jam after a successful meeting with the clients.
Conclusion
The ExpertBook is no replacement to the Zenbook – but then the question is what exactly it is? As the name suggest, the ExpertBook is targeting a particular niche audience who wants the best lightest laptop and we are talking about business directors or job title of that caliber. It's a fantastic laptop and among the most expensive Ultrabooks we have reviewed here, the Expertbook B9 sets an example that you don't have to sacrifice a lot to bear the Ultrabook title – amazing keyboard, impressive 14" Display, a powerful specification but most of all, the availability for all the ports we use on a day-to-day basis without the requirement of dongles to carry and keeping it light.
This ExpertBook B9 sets the benchmark on how an Ultrabook should be and it's going to put a lot of contenders in this segment, a tough time to compete – especially its closest rival, Lenovo ThinkPad X1 Carbon – the other alternative to a premium business laptop which now falls back to the ExpertBook B9 which is lighter, packs quite the performance and handles thermal well.
Plus, this just might be the closest thing to the Zenbook 3 Deluxe alternative in a long time.
---
Thanks to ASUS Malaysia for gracing us with the ExpertBook B9 for review.