Pros
Good audio quality
Trippy RGB Lights
Maximum Volume is really loud
Battery Life is Excellent
Cons
Touch panel has to be "unlocked" to be used
Start-up sequence is incredibly loud and volumes for it does not exist
SonicGo!2 app could be better
Distortion at Max volume
Wires are a hassle to deal with, so it's natural we all love wireless technology particularly when it comes to portable speakers. With the market overflowing with Bluetooth speakers, it can be a challenge to choose a speaker that offers great audio quality, whilst blending into your home's décor. However, the SonicGear Sonic Shuttle could be the portable Bluetooth speaker that you've been looking for.
SonicGear Sonic Shuttle Review
Look and Feel
The Sonic Shuttle is a single device that comes with two 52mm drivers that are upwards firing, a touch-sensitive panel that is accented by blue lighting up top, and RGB lighting that takes up the front fascia. Take a look at the rear and you'll find the main power button, input options that include a microSD card, a USB 2.0 port, a 3.5mm auxiliary port and a USB-C port for charging. There's also a bass port to add a little more bass action.  All these are wrapped in a package that is relatively lightweight and is about the size of a clutch purse.
This would probably lead us to the next question – is it small enough to carry about? And the short answer would be yes. While the device doesn't come with a carrying pouch, it's light and compact enough to fit into most backpacks easily.
Specification
Being a portable Bluetooth speaker, the Sonic Shuttle offers what you'd expect from something of its nature. This includes:
30W max output
Bluetooth 5.0 connectivity
120Hz to 20KHz frequency response
5,200mAh rechargeable battery
Experience
Like many of the leading Bluetooth portable speaker options on the market today, the Sonic Shuttle can be paired with a twin to offer better sound quality. All you need to do is tap the "TWS" button on the panel and the speaker will automatically search and pair with a twin in the vicinity – particularly useful when there's a party going on, or you want a simple multi-channel audio system when watching movies on your laptop. Download the SonicGo!2 app and functionality is expanded – you'll have access to FM radio and will be able to change the effects of the RGB lighting, as well tune the audio via an equalizer.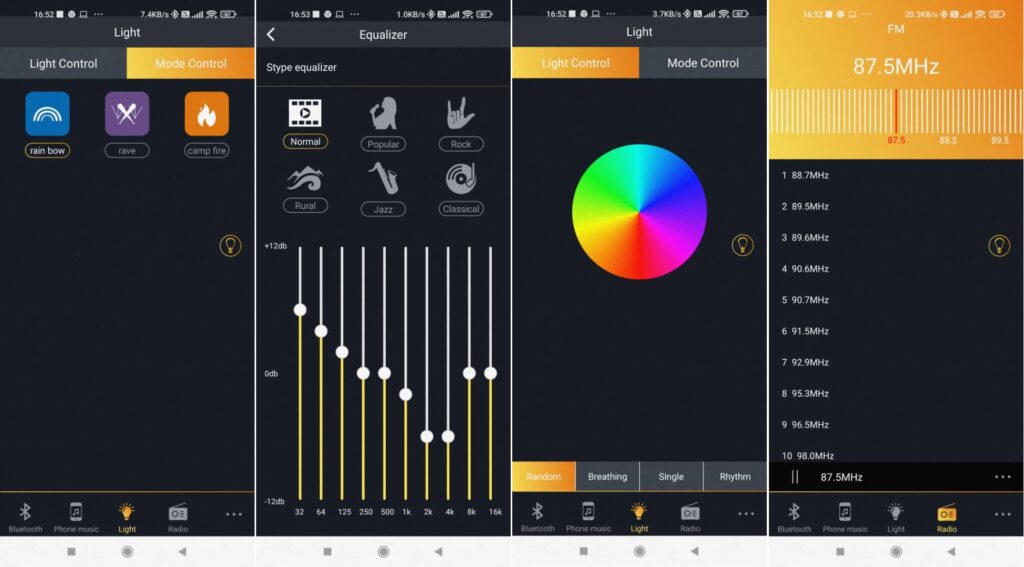 Regardless if you're using a single or two Sonic Shuttles, audio quality is above average, but if you're someone who listens out for every cymbal and truly appreciates vocals, you may want to tweak the tuning a wee bit through the SonicGo!2 app. On that note, the equalizer settings can only be accessed when playing audio from a smartphone, so unless you have your audio library downloaded on your smartphone, you're stuck with the default audio profile. During our time with the Sonic Shuttle, we found that distortion creeps in at 90 per-cent of max volume, so it's best to keep the volume between 70 and 80 per-cent for best audio quality.
Speaking of RGB lighting, you may be wondering if this affects the battery life, but we're happy to report that this isn't the case. While it does take a rather long time to charge (approximately 6 hours) the device, its battery life is rather good. After fully charging the device, we managed to squeeze out about 9.5 hours of battery life with the volume set at about 70%. Officially, it's supposed to give you 12 hours of battery life with the volume at 50%.
Conclusion
In a nutshell, the Sonic Shuttle is an interesting proposition if you're in the market for a Bluetooth portable speaker system. Those who are nit-picky may find some issues with the limited functionality of the SonicGo!2 app and lack of audio tuning options, but if you're someone who wants something simple that outputs good audio without much hassle, the Sonic Shuttle is a tempting option.
---
Special thanks to Bryan Chan for making this review and the photographs taken in this review happen.