For the past two years, or basically ever since ASUS teased us with the ExpertBook B9450, we were a fan, and it was one of those laptops we really looked forward to. ASUS Malaysia, being the kind folks that they are, have loaned us the ExpertBook B9450 for 2 years and it's the best two years I have had with the laptop and it's one to remember – so, here's the ASUS ExpertBook B9450 Long Term Review, just for you.
The Lightweight Build made busy lives manageable
Coming from the ASUS Zenbook 13 UX333F which is smaller than an A4 paper, is already good as it can get, and I thought it would be that end-game laptop of mine for a while. But who am I kidding, right? The moment I got my hands on the ASUS Expertbook B9450, it brought me back to a time where I had the privilege to use one of the premium ASUS laptops ever made, the ASUS Zenbook 3 Deluxe. The Expertbook B9, took a page from that, added more ports, better specification to match today's standards and not to forget, making it unbelievably light.
The lightest laptop I have used personally weighed about 1.2kg. The Expertbook B9, weighs in the 800–900-gram range, making it the lightest laptop I have personally used. Now, in the two years, I was busy with my final two years of medical school and despite the pandemic, it didn't stop us from running back and forth with classes, either in person and when there's work with my site, to churn out articles or reviews, or even as dealing with my clients, this laptop was there every step of the way.
Holding it in just one hand, running around from building to building, LRTs and Cars, the Expertbook B9's weight was a blessing in disguise.
We usually tend to look at brands and wonder why make laptops this light and is it even necessary? For someone who has a busy lifestyle, I have to say – putting this into my real life and see how it panned out, made me understand why lightweight-ness, is a need in the world where people are business owners and have a busy lifestyle.
Not an OLED display but still a Fantastic IPS Panel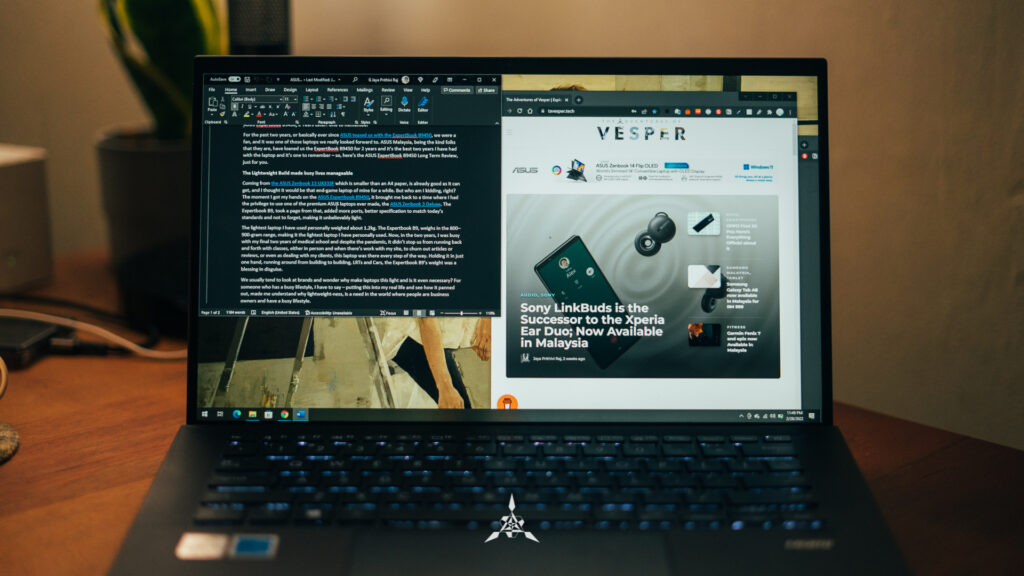 In the recent times, we see ASUS is OLED-ifying their laptops and it's a good direction at that because even budget segment machines from them are getting OLED display which is just crazy and exciting to see. While the Expertbook B9 I got to hold on to didn't have that OLED display, it still had a fantastic anti-glare coated matte finished IPS Panel that was bright enough to get me through the days and just right, for every task I do – be it in light or dark mode.
Performance-wise: Held up very well for a 10th Gen Intel Processor
I am not going to go all-deep into the performance because as I write this, the newer generation of Expertbook B9 is already out with either 11th or 12th Generation Intel Processor. But the 10th Generation Intel Processor was the pinnacle in bringing meaningful changes because it wasn't just any Intel processor but it's the processor that brought Thunderbolt 4 to Ultrabooks and opened the workhorse of a laptop, to plethora of possibilities.
You could get an eGPU, pair it with the laptop and crank everything up a notch to get the performance you need at times. Unfortunately, this laptop isn't ours to begin with and so, we didn't get an eGPU but the option to have was more than enough for us to be satisfied. Not to forget, did you know the variant we had is way too overkill with not one but two 1TB PCIe NVMe M.2 SSD under the hood?
Which means, you don't even have to bring an external drive with you. The total of 2TB storage is enough for you to have more files on the move for uninterrupted work experience. It's also the laptop that saved us when our PC SSD corrupted and so we managed to recover all the data with the help of this laptop, stored it in the second 1TB SSD and picked it up from where we left off.
That USB-C Charging Port made life easier
The ASUS Expertbook B9450 has two USB-C ports, and you can charge through both the ports, which is great. This also gave me the opportunity to ditch the 65W Charging adapter that it came with and purchase my own 65W GaN based adapter and USB-C cable, keeping my whole setup clean, and save my precious space. Even at times, we used the power bank which is capable of doing 65W via USB-C to charge this laptop on days where I have forgotten to charge it.
The same USB-C port has very good transfer speeds, so pairing it with my USB-C External SSDs like the Transcend ESD350C or even the Kingston DataTraveler Max, was just pure bliss. Living the USB-C life cost a pretty penny, but it was one I truly enjoyed with this laptop.
Endurance Champ
The same USB-C port, doubled as a charging port as I mentioned earlier. Most of the time, I have forgotten to charge this laptop when I am out because that's how good the battery life is. During my time, it has given me close to 9 hours mark which is a number one can dream off, getting on a laptop – and that dream was reality for me. I could sit at the café for 5 hours straight, and not worry about the battery depleting.
And even on days where I need the laptop, I could get my work done with that 30% remaining battery. This laptop was no joke, and it really tested the race against time that I had with, be it work or my studies.
Barely any compromises, really
While keeping the laptop light, giving sufficient ports, keeping the performance powerful, there was no compromise that I could point out with this laptop. While sure, I wished I had one more extra full-size USB-A port, but it was something I didn't miss much either because I barely used the one which was on the laptop already. Keeping my accessories to just USB-C and being able to switch with my mobile and laptop seamlessly, for charging, data transfer, all that kind of task, it was just perfect.
Conclusion
And now that my time is up with this ASUS Expertbook B9450, it's a sad one because I loved every aspect of this laptop, in and out, over and under. The Expertbook is a business centric laptop, and as someone who juggles my own business and studies, which are two full time jobs on its own, the ASUS Expertbook B9450, kept that synergy and harmony, which I could never get it from any other laptop.
It's truly the Ultrabook a dreamer loves and it's an honor to have had the opportunity to use this laptop for the past two years. I am truly going to miss it. In fact, this laptop deserves the Vesper Choice Award.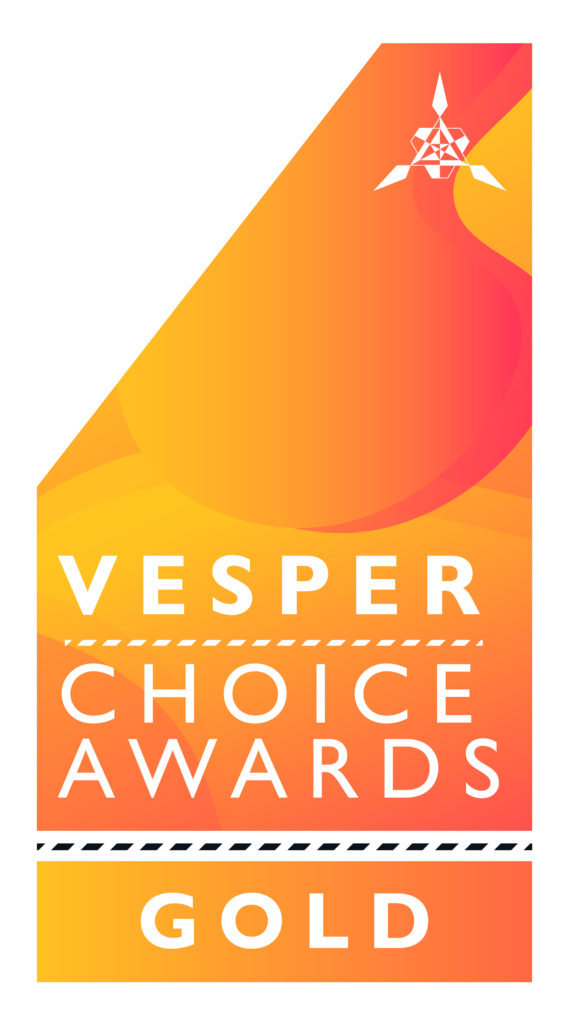 ---
Special thanks to ASUS Malaysia for loaning us the ExpertBook B9450 for making this long term content happen. 
Jaya Prithivi Raj
Jaya Prithivi Raj, also known as Vesper, is the Founder of The Adventures of Vesper. The Rainmaker. I tend to try too many new things because I get bored quickly. But two things I am not bored of: Tech and Healthcare.